Posted on 11.11.14 in News by MK Asante
Buck Hits Bestseller List
Aye! So happy to announce that BUCK: A MEMOIR is an official bestseller. BUCK hit the Washington Post Bestseller List (#6). It's the only memoir on the list too. Thanks to you, the readers, for getting Buck. Much love!
Washington Post Bestseller List (10/24/2014) 
Paperback – Nonfiction/General
1. RISE OF ISIS: A THREAT WE CAN'T IGNORE (Howard, $12.99). By Jay Sekulow. [1]
2. UNBROKEN: A WORLD WAR II STORY OF SURVIVAL, RESILIENCE, AND REDEMPTION (Random House, $28). By Laura Hillenbrand. [76]
3. GETTING TO YES: NEGOTIATING AGREEMENT WITHOUT GIVING IN (Penguin, $16). By Roger Fisher and William Ury. [15]
4. THE BOYS IN THE BOAT: NINE AMERICANS AND THEIR EPIC QUEST FOR GOLD AT THE 1936 BERLIN OLYMPICS (Penguin, $17). By Daniel James Brown. [21]
5. THE 5 LOVE LANGUAGES: THE SECRET TO LOVE THAT LASTS (Northfield, $14.99). By Gary D. Chapman. Knowing that special someone. [105]
6. BUCK: A MEMOIR (Spiegel & Grau, $15). By M.K. Asante. A story about coming of age on the streets of Philadelphia. [1]
7. QUIET: THE POWER OF INTROVERTS IN A WORLD THAT CAN'T STOP TALKING (Broadway, $16). By Susan Cain. [42]
8. THIS IS THE STORY OF A HAPPY MARRIAGE (Harper Perennial, $15.99). By Ann Patchett. An essay collection that delves into the writer's life. [1]
9. MINDSET: THE NEW PSYCHOLOGY OF SUCCESS (Ballantine, $16). By Carol S. Dweck. Why attitude is as important as talent. [33]
10. THE HOT ZONE: THE TERRIFYING TRUE STORY OF THE ORIGINS OF THE EBOLA VIRUS (Anchor, $7.99) By Richard Preston. [1]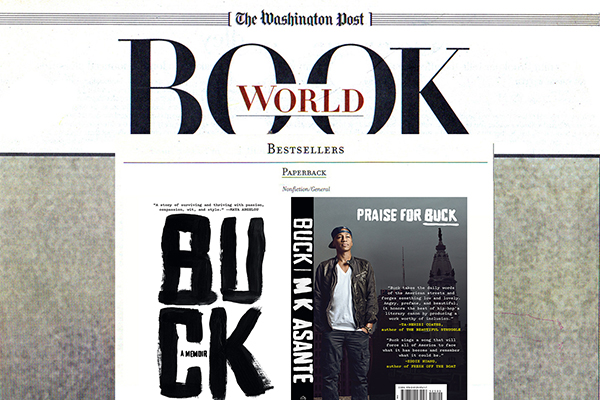 ---