Posted on 01.17.14 in Buck, Hip Hop by MK Asante
Buck Decoded on Rap Genius!
I just had the intense intellectual joy of decoding/annotating my book BUCK: A MEMOIR over at Rap Genius. I'm a huge fan of Rap Genius (if you don't know: Rap Genius is a site that lets users and artists decode and contextualize lyrics) and think what they are contributing to hip-hop, poetry, and literature is major.
C'mon homie, We Major!
And it's mad fun! I spent all night decoding and looking stuff up. I think the Rap Genius model is the future of reading. Intertextual dopeness. Right now, I've got three projects on Rap Genius. Here they go: 1) BUCK: A MEMOIR 2) GODZ N THE HOOD (w/ Bishop Lamont, Ras Kass, and Talib Kweli) 3) THE COLOR GREY (w/ Mykisha Thomas and Bishop Lamont)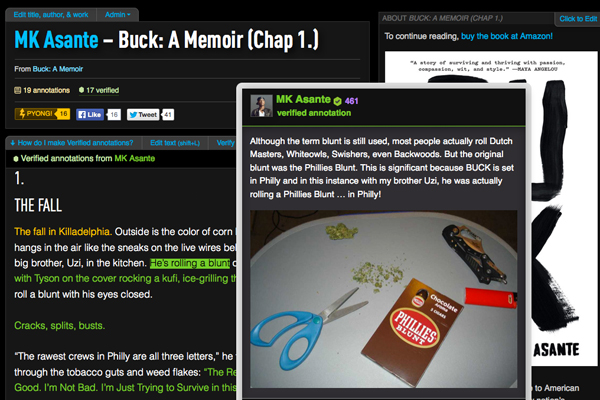 The Education Czar at Rap Genius is a scholar named Dr. Jeremy Dean (aka Lucky Desperado). His background is in African-American literature which I think is essential for Rap Genius to have the depth and substantive grounding it needs. Rap Genius is making history and allows a whole new generation to not only read, but interact and engage with text. For instance, here's an educators guide they've created about teaching using Rap Genius.
Check out this clip of Nas discussing his lyrics on Rap Genius:
---