Posted on 11.26.12 in Hip Hop, Writing by Jeff Chang
Kendrick Lamar and the Post Hip Hop Generation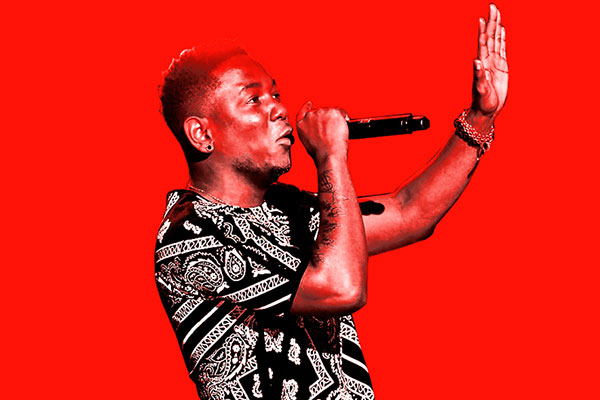 Jeff Chang, the author of Can't Stop, Won't Stop: A History of the Hip-Hop Generation breaks down 2012's most stunning rap album, good kid, m.A.A.d city.
New West Coast rap hero Kendrick Lamar is the size of Eazy-E, chocolate like Larenz Tate, and sometimes punctuates his rhymes with a single word: "Church!" He loves to tell stories — one of his favorites is a kind of creation myth. In it, his dad and mom are driving him home from the hospital to Compton shortly after he's come into the world. The father is cranking Big Daddy Kane, and the mother protests that the music is too loud. But he cuts her off, saying no, the boy needs to hear it.
Lamar was born in the summer of 1987, a moment when friendly competition between Brooklyn, Queens, and Long Island produced a series of epoch-making singles: Kane's "Raw" into Eric B & Rakim's "I Know You Got Soul" into Public Enemy's "Rebel Without a Pause." At the same time out West, Eazy-E's single, the Ice Cube–penned "Boyz-N-the-Hood," and Ice T's "6 in the Morning" were beginning a coastal shift. Lamar grew up with a mom who unwound to the Doggs, Snoop and Nate, and a dad who studied early Cube lyrics.
Now he has become one of the most celebrated rappers in a generation, the kind both hip-hop-loving kids and their vinyl-hoarding parents can agree on. He has the mic skills curmudgeonly old heads complain have disappeared. He has an encyclopedic grasp of rap greats, both the well-celebrated and the nearly forgotten. The title of his new album, good kid, m.A.A.D. city, obliquely references the crew in which W.C. and Coolio got their start. The album not only lives up to the hype, it may also be repping a subtle generational turn, the arrival of a post-hip-hop aesthetic.
Lamar is not inventing a new form. The album's music — produced by a stable of hot producers like Sounwave, Hit-Boy, and Scoop Deville, and mixed mostly by Dr. Dre and Derek "MixedByAli" Ali — is certainly state-of-the-art, but not a significant leap. Lamar raps with a precise aggression, in the marching multisyllabic patterns of pioneering L.A. emcees the Freestyle Fellowship. He often multi-tracks his voice, both to ease into different characters — he becomes a dead Blood and a female prostitute in the sublime "Sing About Me" — and to create a Greek chorus that can challenge his narratives. But so did Tupac Shakur.
Nor is his content a departure. The Roots released a concept album last year, undun, that traced the brief, tragic life of a partly fictionalized character. Lamar looks to L.A. classics like Ice Cube's first two albums, Amerikkka's Most Wanted and Death Certificate, for narrative drive. He also draws from the films that helped build the South L.A. mythos, Boyz-N-Tha-Hood and Menace II Society. Lamar is not the first to turn gangsta tropes on themselves. In that he joins a line stretching from Toddy Tee to Mr. Scarface to Big K.R.I.T.
It is Lamar's outlook that feels post-hip-hop. In 2008, the writer MK Asante — himself the son of Molefi Kete Asante, a cultural scholar whose concept of Afrocentricity was profoundly influential on hip-hop generation artists — wrote a book entitled It's Bigger Than Hip-Hop: The Rise of the Post-Hip-Hop Generation, in which he critiqued the ethos of "keeping it real." He wrote, "The post-hip-hop ethos allows the necessary space for new ideas and expressions to be born free from the minstrel toxins that have polluted modern hip-hop."
Asante was not setting out to trash hip-hop or the hip-hop generation. The book was what one might call a "loving critique," suffused with a desire for a dialogue with elders as much as youthful liberation. If the hip-hop generation emerged largely out of a traumatic break in cultural and political leadership, the post-hip-hop generation rises from a sometimes nearly disabling self-awareness. (See: Kanye West.) Lamar turns the burden to the making of art.
His semi-autobiographical good kid, m.A.A.d. City is unrelentingly dark. ("m.A.A.d.," Lamar has explained, means "my angry adolescence, divided.") It is a coming-of-age story set in Compton, a city that would have stayed invisible were it not for N.W.A. and gangsta rap.
The city has changed a lot since the peak of DJ Quik and MC Eiht's beef in the 1990s — it's now mostly Latino. But in the most important ways — the lack of educational and economic opportunity, the brutal policing of youth, the persistence of gun violence — it has not changed at all. The world inside Alondra, Rosecrans, and Bullis is still more likely to have super churches than supermarkets. Lamar would say it's a city of cul-de-sacs.
On good kid m.A.A.d city, the 25-year-old tracks his teenage journey into and out of an emotional dead end. It begins with a set-piece called "Sherane a.k.a. Master Splinter's Daughter," production team The Bizness building a slow, echoey bass groove quoting The Notorious B.I.G.'s "Who Shot Ya." In a sinuous internal monologue, Lamar describes weeks of scheming on a girl, detailing his adolescent lust, ignoring inconvenient facts about her family and where she lives.
But in the final two lines he throws the listener out of his head and into the street. A tale of trying to get tail becomes a tense showdown, as he faces two threatening kids in black hoodies. The decisive confrontation looms for most of the record.
"Sherane" is as gripping an opening as Cube's "The Nigga Ya Love to Hate." But Cube was expelling fear in a show of bravado. He was raising an angry fist against racists and right-wing culture warriors, bougie sellouts and elders who had abandoned him and his peers. Lamar is alone, cornered, and misunderstood. He is forced back into his own head.
At this point his parents intervene in the form of a light voice-mail message. Through the album, these voice mails provide necessary comic relief. They say: Parents still don't understand. But they also say: They care. By the end of the record, Lamar's parents and an elderly Bible-thumping lady save him and his friends from a downward spiral.
But before that can happen, Lamar dives deeper into bipolar mood swings. On "Bitch Don't Kill My Vibe," his pissy antisociality is a cover for depression born of thwarted ambition and self-doubt. "Backseat Freestyle"'s manic machismo is revealed as overcompensation for a lack of bedroom experience. That "Backseat" is also one of the best hip-hop anthems in recent memory just doubles the achievement. At his most hard-core, he's clowning mainstream hip-hop's hypermasculine self-regard. In Lamar's raps, the mask always slips off.
When Lamar is not locked in his head, he's hanging with CPT's dead-end kids, wandering through an opportunity desert toward suicidal ends. When he raps, "The one in front of the gun lives forever," an older head flashes on Public Enemy's logo of a black male in target sights or Pac staring blankly from the passenger seat of Suge's black SUV before they turn out onto Flamingo Boulevard.
By day, fired by Young Jeezy, weed, and Hennessy, Lamar and his homies pull off stickups and house licks. At night, he "dreams of living life like rappers do." As M.K. Asante would point out, the teenage Lamar is simply unable to imagine more. Bound by loyalty to his peers, cut loose from the steadying influence of elders, Lamar's despair deepens. On "Poetic Justice," he raps,
Every time I write these words they become a taboo
Making sure my punctuation curve, every letter is true
Living life in the margin and that metaphor was proof.
Outside Sherane's house, Lamar is beaten down by the two boys. But as he tries to sort out what's happened, his friends collect the choppers and decide to avenge the beating with a drive-by. The consequences are predictably tragic, and this last half of the song cycle is as devastating as anything ever produced in hip-hop.
On "good kid," Pharrell Williams converts the optimism of Roy Ayers' "We Live In Brooklyn, Baby" into a claustrophobic blues:
Mass hallucination, baby
Ill education, baby
Want to reconnect with your elations?
This is your station, baby
As the music closes in, Lamar's focus widens to the city. "Violence is the rhythm," he raps, that underlies the clash of red and blue gangs, and the red and blue lights of police profiling.
By "m.A.A.d city" — a track inspired by Ice Cube's anti-Bush I diatribe, "A Bird in the Hand," featuring MC Eiht as an omniscient voice of context — Lamar's low growl has turned high-pitched and harried, cracking from pressure. He is no longer able to repress images of a scarred childhood: a shooting interrupting breakfast with his mother, a cousin killed amidst a gang truce, his uncle's blasted skull on the pavement near the burger stand.
As he acidly addresses an outsider, his voice drops into a cartoonish drone:
Would you say my intelligence now is great relief
And it's safe to say that our next generation maybe can sleep
With dreams of being a lawyer or doctor
Instead of a boy with a chopper that hold the cul-de-sac hostage?
"Swimming Pools (Drank)," a final slow dive into the emptiness and toxicity of the party scene, marks the bottom. Lamar compares liquor shots to gunshots, and admits, "All I have in my life is my new appetite for failure."
A decidedly downbeat song in an era of sing- and dance-alongs, Lamar chose it as his single, as counterintuitive a choice as Frank Ocean's "Thinking About You." The blood-and-water video of "Swimming Pools" finds a unexpected counterpart in Kahlil Joseph's powerful film for Flying Lotus's "Until the Quiet Comes." Perhaps the post-hip-hop aesthetic is also about revealing a recession of the soul.
Only after Lamar holds his friend's dying body in his arms can he open up to his elders. A church lady asks the boys to put their guns away, challenging them with a question: "Why are you so angry?" good kid, m.A.A.d. city opens and closes with a prayer circle. It's hard to imagine a less likely and fashionable way to present a mass-market rap album. And yet in Lamar's Compton, what could be more real?
"Don't learn the hard way like I did," his father tells him. "Real is responsibility. Real is taking care of your motherfuckin' family. Real is god, nigga." If post-hip-hop artists choose to follow Lamar's values-directed path — and "traditional values" need not be the only path — it could mark a return to the road largely not taken when, weeks before Tupac's murder, Posdnous of De La Soul rapped, "You cried, 'Keepin' it real', yet you should try keepin' it right."
When Lamar steps out to Just Blaze's "Compton" fanfare for his crowning as the new king, a moment evoking DJ Quik's triumphal "Born and Raised in Compton," he brings along Dr. Dre for the ceremony. A generation later, as one of his mixtape songs went, the kids still ain't alright. But at least they don't have to go at it alone this time.
…
Jeff Chang is the author of Can't Stop Won't Stop: A History of the Hip-Hop Generation. His next book, Who We Be: The Colorization of America, will be out in 2013. He is working on a book of essays entitled Youth.
---